There is no love in the epidemic situation, and it is difficult to return to work?
Keep going
Don't let up and hope for victory
The cold winter is fading,
Spring is dormant in front of us,
Wait to wake up!
With the overall and effective control of the epidemic,
The breath of spring
It is spreading to every corner of cities, villages and companies.
At this time, Plastex international,
It is also full of warm spring flowers,
Everywhere is full of life and vitality.

After a long period of epidemic prevention and control, the people of Plastex unite to fight the epidemic! In an effort to cooperate with the government to complete all the rigorous preparations for epidemic prevention and fighting, Plastex International & Polysun equipment has finally officially returned to work.
After a long dormancy, Plastex international, just back to work, has a lot of good news and welcomes the opening! There are not only new orders and contracts from customers in Europe, Central Asia and Southeast Asia, but also additional orders from customers in Jiangsu and even Hubei in China.
Customer order design plastic doors and windows production line, plastic profile extrusion mold, and even the company's latest research and development of the nose of the mask clip extrusion production line, etc., for the hard-working Plastex people continuously sent gospel.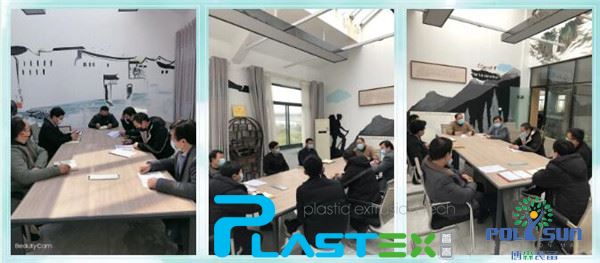 The grass grows, the warbler flies in February, and the willow is drunk with spring smoke! Look for the scenery around Tongling!